The Ten of Disks: Weekly Tarotcast™ – Free Tarot Reading
1-11-22 through 1-18-22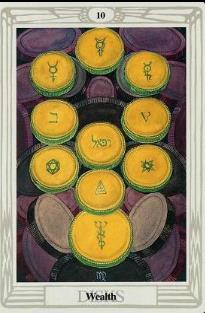 The Ten of Disks is this week's Tarotcast card. This card is also called the Ten of Coins and the Ten of Pentacles. This week's energy focuses on financial prosperity. It is building on a firm foundation for our personal and family life. Besides, we find ways to grow our assets and resources. We also find creative ways to put money to good use through wise investing or smart budgeting.
The Elements
Mercury's creative force applied to the material and physical resources of Earth. Dynamic wealth in action.
The Number 10
The Tens of the Minor Arcana represent completion. They are the manifestation and culmination of the energy of their suits and elements.
The Ten of Disks is special. It is the very last Tarot card: the point at which spirit manifests completely as matter. This is the point which signals the reintegration of matter into spirit. It is a complete picture of the cycle of regeneration. Unlike any of the other small cards including the Tens of the other suits, the Ten of Disks has a unique mission. From the very bottom of the cosmos, it must link to the inmost secret of creation. It then reincarnates at the very top of the Tarot cycle. As a result, its job is nothing less than to regenerate the world.
Kabbalah
On the Tree of Life, the Ten of Disks represents the formula 10. Sephiroth or sphere 10, Malkuth (Kingdom), the material world. In the suit of Disks, the element of Earth. Assiah – our physical bodies. Also, material assets or resources. Plus, Mercury in Virgo equaling Wealth.
Astrology
The Ten of Disks card corresponds to Mercury in Virgo. It rules from 20 to 30 degrees Virgo, or September 12th through September 22nd. So, if your birthday falls on or between those dates, you'll be feeling this week's energy even more than the rest of us. Mercury co-rules both Gemini and Virgo.
In real-time astrology, the Sun continues its transit of Virgo's fellow Earth-sign, Capricorn. It will enter Air-sign Aquarius on January 19th, the end of this forecast period.
Mercury turns retrograde in Air-sign Aquarius on January 14th. It will continue its retrograde cycle until February 3rd. This retro begins in Aquarius but backs into Capricorn on January 25th. Aquarius energy gets us in tune with our humanitarian ideals. We also come up with innovative and creative ideas. In Capricorn we have little patience for trivialities. We speak only after careful thought and may be terse.
"She works hard for the money – so hard for it, honey, she works hard for the money so you better treat her right…"
This is a good time for re-evaluating our professional lives and careers. We're concerned with our reputations and very ambitious too.
The Full Moon in Water-sign Cancer on January 17th awakens the desire to connect with family. This lunation can also inspire us to examine our own hearts. This Full Moon results in the illumination of hidden or mysterious things. We find time to address what we've neglected or postponed.
Uranus turns direct in Earth-sign Taurus on January 18th. After about five months of retrograde motion, it gains speed. This urges us to take risks, to express ourselves and even to rebel. We embrace change and trust our own instincts. We're able to decide and influence. We aren't victims of change but its agents.
"I'll buy you a diamond ring my friend if it makes you feel alright. I'll get you anything my friend if it makes you feel alright. 'Cause I don't care too much for money, money can't buy me love…"
Last, we're still feeling the influence of Venus retrograde in Capricorn too. What we value and who we love will receive some intense scrutiny. But, this isn't a good time for major financial investments. Take time to review budgets and financial plans.
Shadow
Misuse, darkening or the shadow energy of the Tend of Disks card includes greed for money. Also, hoarding material possessions. Lack of understanding of the connection between the physical and the spiritual worlds.
Light
In contrast, let's focus on discovering the value of everyday things. The understanding that wealth is more than how much money we have in our wallets or our bank accounts.
Alchemy
Power colors: yellow, purple, grey and indigo for Mercury as well as green and plum for Virgo.
Power stones: carnelian, jade and jasper. Wear these as jewelry or carry them as power stones to help you feel comfortable, secure and generous.
Power metals: platinum (how's that for feeling rich?) and of course Mercury which we can't wear or handle. Wear platinum if you're lucky enough to own it.
Power fragrances: valerian, lavender, lily of the valley and lilac. These bring a sense of abundant well-being into your environment.
Power foods: foods prepared with rosemary, parsley, dill, peppermint and lemongrass. And all provide the same beneficial effects already described.
The Tarotcast is a free Tarot reading with a new post every Tuesday!
An individualized Tarot reading with me focuses on what's most important for you, so call 847-735-1718 today for a personalized, in-depth look into your life's possibilities.
Lyrics quotes: "She Works Hard for the Money" ~ Donna Summer (Michael Omartian/Donna Summer)
"Can't Buy Me Love" ~ The Beatles (Paul McCartney/John Lennon)
The Tarotcast is a free Tarot reading with a new post every week on Tuesday!
An individualized Tarot reading with me focuses on what's most important for you, so call 847-735-1718 today for a personalized, in-depth look into your life's possibilities.
Copyright 2022© Dona C. Murphy, Destiny Tarot®
"Destiny Tarot" and the Destiny Tarot logo are the registered trademarks (servicemarks) of Dona C. Murphy. All rights reserved. No portion of this article may be reproduced without my permission. Tarot card images: Aleister Crowley Thoth Tarot © copyright Ordo Templi Orientis, International Headquarters, JAF Box 7666, New York, NY 10116 USA. All rights reserved.